India- Oman's Top Defence: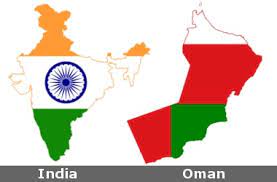 India is laying out the red carpet for Oman's top defence official Mohammed Nasser Al Zaabi, who will be in India from January 30 to February 4 on an official visit.
Zaabi will be in Delhi to co-chair the Joint Military Cooperation Committee (JMMC) with Defence Secretary Ajay Kumar.
The JMCC is the highest forum of engagement between India and Oman in the field of defence that evaluates and provides guidance to the overall framework of defence exchanges between the two sides.
The JMCC is expected to meet annually, but could not be organised since 2018 when the meeting of the 9th JMCC was held in Oman.
Oman is India's closest defence partner in the Gulf region and an important anchor for India's defence and strategic interests.
Defence cooperation has emerged as a key pillar for the robust India-Oman strategic partnership. Defence exchanges are guided by a Framework MOU which was recently renewed in 2021.
Oman is the only country in the Gulf region with which all three services of the Indian armed forces conduct regular bilateral exercises and staff talks, enabling close cooperation and trust at the professional level.
Oman also provides critical operational support to Indian naval deployments in the Arabian sea for anti-piracy missions.
Bilateral training cooperation between the two sides is also robust with Omani forces regularly subscribing to training courses in India both at professional as well as higher command level.
Indian armed forces also subscribe to the Staff and Command courses conducted at NDC, Oman.
Oman also actively participates in the Indian Ocean Naval Symposium (IONS).