Corbett Tiger Reserve : Bird Survey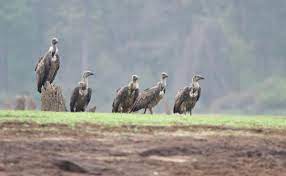 In the recent bird survey at Corbett Tiger Reserve about 275 bird species, including two critically endangered, four vulnerable ones and two endangered species, were counted.
Key findings of the survey:
As per the report, two species, namely white-rumped vulture and red-headed vulture, considered critically endangered by the International Union for Conservation of Nature (IUCN) list, have been documented in the survey,
Two endangered species — Pallas's fish-eagle, Egyptian vulture were also counted by the researchers in the survey.
Four vulnerable bird species — great hornbill, great slaty woodpecker, grey-crowned prinia and river tern — have also been counted in the survey.
Corbett Tiger Reserve:
It is located in the Nainital district of Uttarakhand which encompasses the Patli Dun valley.
The Ramganga, Sonanadi, Palain and Mandal, and Kosi rivers form the prominent hydrological resource for the Corbett.
The core area of the reserve contains the Corbett National Park and the Sonanadi Wildlife Sanctuary is part of its buffer area.
The trees which contribute to the Flora of Corbett consist of evergreen Sal and its combined trees, the Sheesham, and the Kanju found extensively on the ridges.
Fauna: Tiger, Leopard, Elephant, Hog deer, spotted deer, Samber etc.