One District One Product Gifts: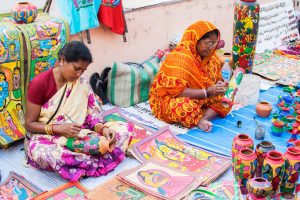 The Ministry of Youth Affairs and Sports is presenting Khelo India University Games (KIUG) winners with 'One District One Product' gifts.
One District One Product (ODOP) Initiative was launched by the Ministry of Food Processing Industries in 2018.
Objective is to help districts reach their full potential, foster economic and socio-cultural growth, and create employment opportunities, especially, in rural areas.
The initiative aims to select, brand, and promote at least One Product from each District of the country for enabling holistic socioeconomic growth across all regions.
ODOP Initiative aims to turn every district in India, into an export hub through promotion of the product in which the district specialises.
The initiative plans to accomplish this by scaling manufacturing, supporting local businesses, finding potential foreign customersand so on, thus helping to achieve the 'Atmanirbhar Bharat' vision.
The ODOP Initiative has identified a total of 1102 products from 761 districts across the country.
This initiative is carried out with the 'Districts as Exports Hub' initiative by the Directorate General of Foreign Trade (DGFT), Department of Commerce.