One Nation One Anganwadi Program: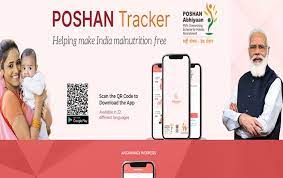 More than 57,000 migrant workers have registered for the special one nation one Anganwadi program on Poshan Tracker App.
Poshan app will allow migrant workers to access nurseries at their respective locations by using the Poshan Tracker App on mobile phones.
Poshan Tracker App: The Ministry of Women and Child Development (MoWCD) has launched an application called Poshan Tracker.
The Poshan Tracker management application provides a 360-degree view of the activities of the Anganwadi Centre.
The app facilitates efficient service delivery by digitizing and automating the tasks performed by Anganwadi Workers.
To support their work, smartphones procured through Government e-Market (GeM) have been provided to the workers.
Additionally, a designated individual has been appointed in each state to offer technical support and resolve any issues related to downloading and using the new Poshan Tracker application.
Migrant workers who have registered in their original state can visit the nearest Anganwadi in their current place of residence to access the schemes and services provided through the app.
POSHAN Abhiyaan:
Prime Minister's Overarching Scheme for Holistic Nutrition was launched the Prime Minister on 8th March 2018 in Jhunjhunu district of Rajasthan.
Objectives is to :

Prevent and reduce Stunting in children (0- 6 years)
Prevent and reduce under-nutrition (underweight prevalence) in children (0-6 years)
Reduce the prevalence of anemia among young Children (6-59 months)
Reduce the prevalence of anemia among Women and Adolescent Girls in the age group of 15-49 years
Reduce Low Birth Weight (LBW).