Jeevan Pramaan: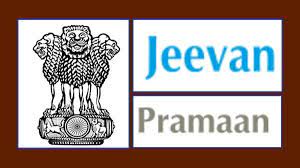 The Department of Pension & Pensioners' Welfare (DoPPW) has taken proactive steps to enhance the ease of living for Central Government pensioners through the widespread promotion of Digital Life Certificates (DLC), known as Jeevan Pramaan.
Pensioners must submit DLC every November (with a provision for those aged 80 years and above in October) to ensure continuous pension disbursement.
Initially, the submission of DLCs involved biometric methods. Subsequently, in collaboration with MeitY, the department introduced a pioneering Face Authentication technology system linked to the Aadhar database.
This innovation enables pensioners to generate their Life Certificates via any Android-based smartphone. This reduces reliance on external biometric devices, rendering the process more accessible and affordable, especially for the broader population.
To ensure the success of the campaign, detailed guidelines have been issued These guidelines include :

Nodal officers nominated for the campaign.
Awareness through banners, posters, and ATMs.
Utilization of technology during doorstep banking and branch visits.
Camps for easy submission, and home visits for bedridden pensioners.