One Nation One Fertiliser: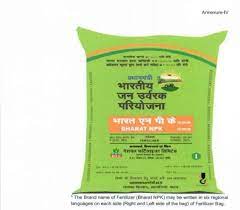 To bring about uniformity in fertiliser brands across the country, the government issued an order directing all companies to sell their products under a single brand name of 'Bharat'.
All fertiliser bags, whether containing urea or di-ammonium phosphate (DAP) or muriate of potash (MOP) or NPK will sport the brand name 'Bharat Urea', 'Bharat DAP', 'Bharat MOP' and 'Bharat NPK' irrespective of the company that manufacturers
A single brand name and the logo of Pradhan Mantri Bhartiya Janurvarak Pariyojana (PMBJP) will have to be displayed on the bag.
The central government grants subsidies annually to the fertiliser companies und PMBJP
The maximum retail price of urea is currently fixed by the government, which compensates companies for the higher cost of manufacturing or imports incurred by them.
Companies cannot avail subsidy if they sell at MRPs higher than indicated by the government.
Through the Fertiliser (Movement) Control Order, 1973 the government also decides where they can sell.