Operation Polo: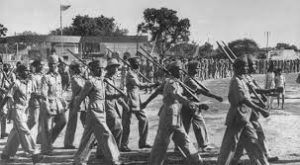 On 13th September, 1948, India's military action known as "Operation Polo" was launched to integrate the princely state of Hyderabad, a significant event in Indian history.
The Nizam of Hyderabad, Mir Osman Ali Shah, had hesitated to join India or Pakistan after Independence, capitalizing on the Indian government's preoccupation with the Kashmir conflict.
A standstill agreement signed in November 1947 maintained the status quo between Hyderabad and India for a year, allowing the Nizam to continue governing independently.
However, escalating tensions, cross-border raids, and intentions to establish an independent state, prompted India to act.
The operation saw well-planned military thrusts from multiple directions, ultimately leading to the surrender of the Hyderabad state forces.
This pivotal campaign, carried out under the watchful eye of Sardar Vallabhbhai Patel, culminated in a ceasefire declaration on 17th September, 1948 effectively placing Hyderabad under Indian control by 18th September, 1948.