Operation Dhvast: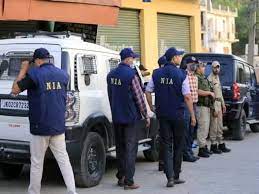 NIA's Operation Dhvast was a nationwide operation targeting terrorists, gangsters, and drug smugglers. It involved raids at 129 locations across multiple states, resulting in three arrests.
The operation aimed to dismantle the terror nexus involved in targeted killings, terror funding, extortion, and smuggling of drugs and weapons.
NIA(National Investigation Agency)
It was founded in 31st Dec 2008; HQ: New Delhi; Under Home Ministry
It is the primary anti-terror investigation task force of India.
The agency is empowered to deal with the investigation of terror-related crimes across states without special permission from the states under a written proclamation from the Ministry of Home Affairs.
It has the authority to take over cases from state police forces and other agencies.
It seeks the sanction of the Central government for prosecuting accused individuals under the Unlawful Activities (Prevention) Act (UAPA) and other scheduled offences.