Rain Water Harvesting: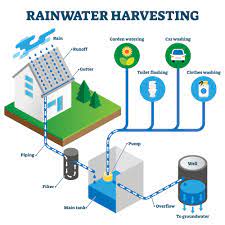 Minister of State for Jal Shakti informed Rajya Sabha about the Rain Water Harvesting
Though Water is a State subject, Central Government has taken a number of important measures for implementation of rain water harvesting through scientific manner including watershed principles in the country.
Ministry of Housing & Urban Affairs (MoHUA) has formulated guidelines for the States to adopt measures suitable to local conditions, such as Unified Building Bye Laws (UBBL) of Delhi, 2016, Model Building Bye Laws (MBBL), 2016 and Urban and Regional Development Plan Formulation and Implementation (URDPFI) Guidelines, 2014.
Under them, adequate focus has been given on requirement of rainwater harvesting and water conservation measures.
In addition, a number of States have done notable work in the field of water conservation/harvesting such as

'Mukhyamantri Jal Swavlamban Abhiyan' in Rajasthan,
'Jalyukt Shibar' in Maharashtra, 'Sujalam Sufalam Abhiyan' in Gujarat,
'Mission Kakatiya' in Telangana,
NeeruChettu' in Andhra Pradesh,
Jal Jeevan Hariyali in Bihar,
Jal Hi Jeevan' in Haryana, and
Kudimaramath scheme in Tamil Nadu.