Committee To Prevent Elephant Deaths On Railway Tracks: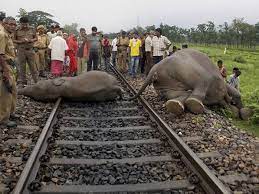 The Union Environment Ministry has constituted a "permanent" coordination committee that includes the Ministry of Railways and the Environment Ministry to prevent elephant deaths on railway tracks.
19 elephants were killed across the country on railway tracks in 2018-19, 14 in 2019-20 and 12 in 2020-21.
Railway collisions were the second-largest reason for the unnatural deaths of elephants despite tracts being specifically demarcated and notified as elephant passages.
Key measures taken:
Setting up of a Permanent Coordination Committee between the Ministry of Railways (Railway Board) and the MoEFCC for preventing elephant deaths in train accidents.
Clearing of vegetation along railway tracks to enable clear view for loco pilots.
Using signage boards at suitable points to alert loco pilots about elephant presence.
Moderating slopes of elevated sections of railway tracks.
Setting up underpass/overpass for safe passage of elephants.
Regulation of train speed from sunset to sunrise in vulnerable stretches.
Regular patrolling of vulnerable stretches of railway tracks by frontline staff of the Forest Department and wildlife watchers.