Driving Holistic Action For Urban Rivers (DHARA):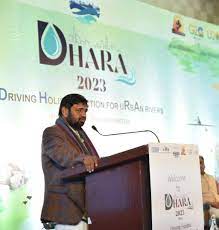 DHARA the annual meeting of the members of the River Cities Alliance (RCA), is being organised by the National Mission for Clean Ganga (NMCG) in association with the National Institute of Urban Affairs (NIUA)
DHARA provides a platform to co-learn and discuss solutions for managing local water resources.
River Cities Alliance is a dedicated platform for river cities to ideate, discuss and exchange information for sustainable management of urban rivers.
It includes cities from both the Ganga basin and non-Ganga basin states.
It is being implemented by a partnership of the Ministry of Jal Shakti and the Ministry of Housing and Urban Affairs
River Cities Alliance (RCA) started with 30 cities in 2021 and currently has 95 cities as members across India
It has strong synergies with the Urban20 (U20) initiative (under India's G20 Presidency) to promulgate urban water security.