Unying Festival : Arunachal Pradesh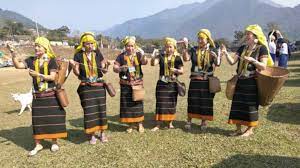 The Union Minister of Ports, Shipping & Waterways and Ayush attended the colourful Siang Unying Festival in Arunachal Pradesh.
Unying Festival of Unying is celebrated to herald the season of cultivation, the beginning of the Adi community's New Year, arrival of spring seasons as well as a great way to strengthen the bond among the community.
Adi community are believed to have come from southern china in the 16th century.
The Adi constitute a major group and inhabit the lower part of the Lower Dibang Valley district, especially the Roing and Dambuk areas of Arunachal Pradesh.
They are experts in making cane and bamboo items.
The Adis are basically dependent on agriculture. Both wet rice cultivation and shifting cultivation are practised.
Solung (a harvesting festival where animal sacrifices and rituals are performed) and Aran ( a hunting festival where all the male members of the family go hunting) are two major festivals of the Adi tribes.