Pangong Tso: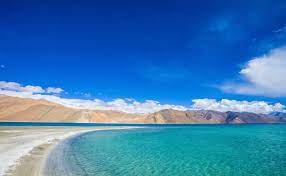 Construction of a bridge by China on the Pangong Tso in eastern Ladakh is a latest addition to the ongoing standoff between India and China.
It is being built on the north bank of the Pangong Tso and the Chushul sub-sector on the south bank.
The site of the bridge is within India's claim line, although the area has been under Chinese control since 1958.
It will help in quick mobilization of PLA troops between the two banks at one of the lake's narrowest points.
The Kailash range is around 35 km west of the bridge site. Once this bridge gets completed, it will enable Chinese troops to simply cross over, slashing travel time to Kailash range from about 12 hours to about four hours.
It will strengthen the idea of permanency being established by Beijing in the region.
About Pangong Tso:
Pangong Tso literally translates into a "conclave lake". Pangong means conclave in Ladakhi and Tso means lake in Tibetan language.
Situated at over 14,000 feet, the Lake is about 135 km long.
It is formed from Tethys geosyncline.
The Karakoram Mountain range, which crosses Tajikistan, Afghanistan, Pakistan, China and India, with heights of over 6,000 meters including K2, the world's second highest peak, ends at the north bank of Pangong Tso.
Its southern bank too has high broken mountains sloping towards Spangur Lake in the south.
The lake's water, while crystal clear, is brackish, making it undrinkable.
The Line of Actual Control (LAC) – the line that separates Indian and Chinese troops since 1962 – generally runs along the land except for the width of Pangong Tso. Here, it runs through water.
Both sides have marked their areas announcing which side belongs to which country.
India controls about 45 km stretch of the Pangong Tso and China the rest.
The lake has mountain spurs of the Chang Chenmo range jutting down, referred to as fingers.
There are eight of them in contention here. India and China have different understanding of where the LAC passes through.
India has maintained that the LAC passes through Finger 8, which has been the site of the final military post of China.
India has been patrolling the area – mostly on foot because of the nature of the terrain – up to Finger 8. But Indian forces have not had active control beyond Finger 4.
China, on the other hand, says the LAC passes through Finger 2.
It has been patrolling up to Finger 4- mostly in light vehicles, and at times up to Finger 2.