Ganoderma: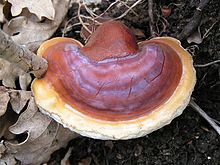 Researchers from Kerala have identified two new species of fungi from the genus Ganoderma that are associated with coconut stem rot.
They have also genotyped the two fungi species, named Ganoderma keralense and G. pseudoapplanatum and identified genetic biomarkers.
The DNA barcodes have been made publicly available in DNA sequence repositories so that future studies can use it for early detection of the pathogen. The research was published in the journal Mycologia.
The butt rot or basal stem rot of coconut is known by several names in different parts of India: Ganoderma wilt (Andhra Pradesh), Anaberoga (Karnataka) and Thanjavur wilt (Tamil Nadu), to mention a few.
The infection begins at the roots, but symptoms include discolouration and rotting of stem and leaves.
In the later stages, flowering and nut set decreases and finally the coconut palm (Cocos nucifera) dies.