Guru Nanak Dev Jayanti: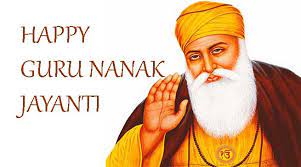 Guru Nanak Dev Ji Jayanti, also known as Guru Nanak's Prakash Utsav and Guru Nanak Dev Ji Gurpurab, celebrates the birth of the first Sikh guru, Guru Nanak.
Guru Nanak Jayanti is celebrated on the full moon day of Kartik month, also known as Kartik Poornima.
This year, followers of Guru Nanak will celebrate the Guru Nanak Jayanti on November 19, 2021.
It will mark the 552nd birth anniversary of Guru Nanak Dev Ji, the first of the ten Sikh gurus.
About Guru Nanak Dev:
Guru Nanak Dev (1469-1539) was born in a village, Talwandi Rai Bhoe, near Lahore (it was renamed later as Nankana Sahib).
He initiated inter-faith dialogue in the 16th century and had conversations with most of the religious denominations of his times.
His written compositions were included in the Adi Granth compiled by the fifth Sikh Guru Arjan Dev (1563-1606).
It is known as Guru Granth Sahib after the additions made by the 10th guru Guru Gobind Singh (1666-1708).
Guru Nanak was a great champion of equality. He aimed at creating a casteless society in which there is no hierarchy.
For him, the differences and multiple identities based on caste, creed, religion and language were irrelevant.
He had said, "Preposterous is caste, vain the distinction of birth. The Lord gives shelter to all beings".
Referring to women, the Guru Nanak says: "How can they be inferior when they give birth to men? Women as well as men share in the grace of God and are equally responsible for their actions to Him."
The spirit of living together and harmoniously working together is a consistent thread of thought that runs through Guru Nanak hymns.
He founded three pillars of Sikhism namely Naam Japna, Kirat Karni, and Vand Chakna.
He consciously went on long journeys (called uddasian) to far off places along with his two companions Bhai Bala, a Hindu, and Bhai Mardana, a Muslim, to hold dialogues with many saints and Sufis even, some charlatans who claimed some spiritual powers and had some social following.