PM GatiShakti: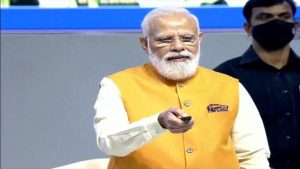 The Minister of Finance presented the Union Budget 2022-23.
This section deals with proposals related to 'PM GatiShakti'.
PM GatiShakti National Master Plan for Multi-Modal Connectivity, launched in October 2021, is an initiative aimed at coordinated planning and execution of infrastructure projects. The objective is to bring down logistics costs.
GatiShakti is a digital platform bringing development projects of 16 ministries, including railways and roadways, together for integrated planning and implementation.
When launched, the GatiShakti scheme subsumed the Rs 110 lakh crore National Infrastructure Pipeline announced in 2019.
Focus Area for Budget 2022-23:
Its scope will encompass the seven engines (Roads, Railways, Airports, Ports, Mass Transport, Waterways and Logistics Infrastructure).
It will also include the infrastructure developed by the state governments as per the GatiShakti Master Plan.
The touchstone of the Master Plan will be world-class modern infrastructure and logistics synergy among different modes of movement – both of people and goods – and location of projects.
Major Proposals for PM GatiShakti:
PM GatiShakti Master Plan for Expressways will be formulated in 2022-23 to facilitate faster movement of people and goods.
National Highways network to be expanded by 25,000 km in 2022-23. Rs. 20,000 crore to be mobilized for the expansion.
The data exchange among all mode operators will be brought on Unified Logistics Interface Platform (ULIP), designed for Application Programming Interface (API).
This will provide real time information to all stakeholders, lead to efficient movement of goods through different modes, and improve international competitiveness.
Open-source mobility stack, for organizing seamless travel of passengers will also be facilitated.
Contracts for implementation of Multimodal Logistics Parks at four locations through PPP (Public-Private Partnerships) mode will be awarded in 2022-23.
Railways will develop new products and efficient logistics services for small farmers and Small and Medium Enterprises, besides taking the lead in integration of Postal and Railways networks to provide seamless solutions for movement of parcels.
'One Station-One Product' concept to help local businesses & supply chains.
As a part of Atmanirbhar Bharat, 2,000 km of network will be brought under Kavach, the indigenous world-class technology for safety and capacity augmentation in 2022-23.
400 new-generation Vande Bharat Trains to be manufactured during the next three years.
100 PM GatiShakti Cargo Terminals for multimodal logistics facilities will be developed during the next three years.
Mass Urban Transport including Connectivity to Railways :Innovative ways of financing and faster implementation will be encouraged for building metro systems of appropriate type at scale.
Multimodal connectivity between mass urban transport and railway stations will be facilitated on priority.
Parvatmala: National Ropeways Development Programme:

As a preferred ecologically sustainable alternative to conventional roads in difficult hilly areas, National Ropeways Development Programme will be taken up on PPP mode.
The aim is to improve connectivity and convenience for commuters, besides promoting tourism.
This may also cover congested urban areas, where conventional mass transit systems are not feasible.

Capacity Building for Infrastructure Projects:

With technical support from the Capacity Building Commission, central ministries, state governments, and their infra-agencies will have their skills upgraded.
This will ramp up capacity in planning, design, financing (including innovative ways), and implementation management of the PM GatiShakti infrastructure projects.