PM KUSUM: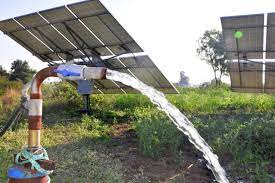 The Ministry of New and Renewable Energy (MNRE) has extended the deadline to install 30,000 MW solar power capacity in rural India to March 2026 under PM-KUSUM (Pradhan Mantri Kisan Urja Suraksha Evam Uttham Mahabhiyan).
The PM-KUSUM was launched by the MNRE in 2019, in order to endow installation of off-grid solar pumps in rural areas and reduce dependence on grid, in grid-connected areas.
Components:

10,000 MW of decentralized ground-mounted grid-connected renewable power plants.
Installation 20 lakh solar-powered agriculture pumps
Converting 15 lakh agriculture pumps, already connected to the grid, into solar.

Objective:

It aims to enable farmers to set up solar power generation capacity on their arid lands and to sell it to the grid.
It also seeks to increase the income of farmers by allowing them to sell surplus solar power to the grid.