Poshan Or Nutrition Tracker: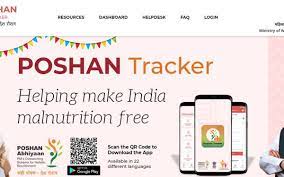 The Ministry of Women and Child Development has spent over ₹1,000 crore on its Poshan or Nutrition Tracker, which records real-time data on malnourished and 'severe acute malnourished' children in each anganwadi. But four years since its launch, the Government is yet to make the data public.
Government officials have cited privacy concerns as a reason for keeping the data under lock and key but experts say it can easily be anonymised as is the case with data for several other government schemes.
About the Poshan Tracker:
The Poshan Tracker, known as the ICDS-CAS (Integrated Child Development Services-Common Application Software) in its earlier avatar, was set up with the aim of tracking and improving various services delivered at anganwadis and to ensure nutritional management of beneficiaries.
This real-time monitoring system is one of the key pillars of Poshan Abhiyan or Nutrition Mission approved by the Union Cabinet in November 2017 with a financial outlay of ₹9,000 crore for three years.
About Poshan Abhiyaan:
The programme seeks to improve nutritional outcomes for children, pregnant women and lactating mothers.
Launched in 2018 with specific targets to be achieved by 2022.
It aims to reduce:

Stunting and wasting by 2% a year (total 6% until 2022) among children.
Anaemia by 3% a year (total 9%) among children, adolescent girls and pregnant women and lactating mothers.

The target of the mission is to bring down stunting among children in the age group 0-6 years from 38.4% to 25% by 2022.
More than a third of the children under five face stunting and wasting and 40% aged between one and four are anaemic. Over 50% of pregnant and other women were found to be anaemic, said the National Family Health Survey 4 released in 2016.