Poshan Tracker: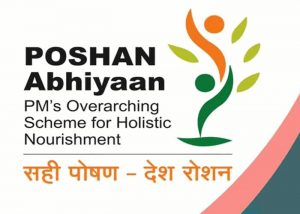 The Government of India has told in the Lok Sabha that the Data recorded in the Poshan (Nutrition) Tracker have not been made public in the interest of privacy of women and children.
The objective is to honour the privacy of women and children who are serviced by the Government of India in collaboration with State Governments across the anganwadi systems in the country.
Poshan Tracker:
The Poshan Tracker, known as the ICDS-CAS (Integrated Child Development Services-Common Application Software) in its earlier avatar, was set up with the aim of tracking and improving various services delivered at anganwadis and to ensure nutritional management of beneficiaries.
This real-time monitoring system is one of the key pillars of Poshan Abhiyan or Nutrition Mission approved by the Union Cabinet in November 2017 with a financial outlay of ₹9,000 crore for three years.
The Government has spent ₹1,053 crore to develop the tracker.
The tracker is one of the important pillars of the Poshan Abhiyan and helps the Government monitor services delivered at 12.3 lakh anganwadi centres and record nutritional indicators of 9.8 lakh beneficiaries, including children in the age of six months to six years as well as pregnant women and lactating mothers.
Anganwadis provide six services, which include supplementary nutrition in the form of hot-cooked meals and take home ration, immunisation and pre-school education.
The parliamentary committee in its report raised several questions on the effective use of the Poshan Tracker.
It sought that key performance indicators be constantly monitored and uploaded on its website and a State-wise progress report be maintained "so that identification of those deprived of the benefits can be made on a real-time basis for timely remedial measures."
The committee also recommended that the Ministry put in place a monitoring mechanism to ensure there were no gaps in distribution of food packets to anganwadi beneficiaries.
About Poshan Abhiyaan:
The programme seeks to improve nutritional outcomes for children, pregnant women and lactating mothers.
Launched in 2018 with specific targets to be achieved by 2022.
It aims to reduce:

Stunting and wasting by 2% a year (total 6% until 2022) among children.
Anaemia by 3% a year (total 9%) among children, adolescent girls and pregnant women and lactating mothers.
The target of the mission is to bring down stunting among children in the age group 0-6 years from 38.4% to 25% by 2022.