Ship Acquisition, Financing And Leasing (SAFAL):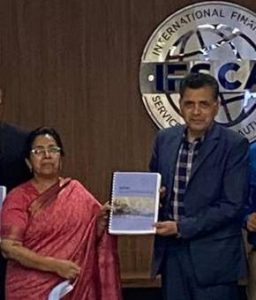 The report titled Ship Acquisition, Financing and Leasing (SAFAL) was submitted by the Committee for Development of Avenues for Ship Acquisition, Financing and Leasing to the International Financial Services Centres Authority (IFSCA).
The Committee was constituted by IFSCA in June 2021 with representatives from the Government of India, Gujarat Maritime Board, industry and finance experts, and academicians.
Objective: Focus remained on enabling cost-effective and competitive delivery of shipping services on ships owned and leased from India-offshore IFSC which is on par with overseas competitors.
Observations of the Committee:

Net Importer of Shipping Services: Despite having a large coastline, growing domestic market and international seaborne trade, deep-rooted maritime traditions, and skilled seafarers, India continues to have a smaller share in the international shipping sector, thus becoming a net importer of shipping services especially ship finance.
Required Changes: It has presented the critical and necessary changes required to bring this greenfield venture to India IFSC.These cover legal and regulatory domains, direct and indirect taxes, ship finance, and ease of doing business drawing upon global best practices.
Imparting Brand Value: It finds that the time is opportune for imparting a brand value to Indian-flagged vessels.
This can be done by carving out a share in global cross trades, securing gainful transactions for India's marketplace, promoting decarbonization and greening of the blue oceans, and leveraging India-IFSC Maritime for achieving the Maritime India Vision 2030 and beyond.
Maritime India Vision 2030 is a ten-year blueprint for the maritime sector which was released by the Prime Minister of India at the Maritime India Summit in November 2020.
It will supersede the Sagarmala initiative and aims to boost waterways, give a fillip to the shipbuilding industry and encourage cruise tourism in India.