Pradhan Mantri Bharatiya Jan Aushadhi Kendras : At Railway Station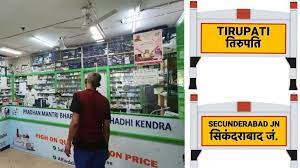 Railways Ministry will establish Pradhan Mantri Bharatiya Janaushadhi Kendras at railway stations across the country.
Pradhan Mantri Bhartiya Jan Aushadhi Kendras are set up under Pradhan Mantri Bhartiya Jan Aushadhi Pariyojana, which was launched by the Department of Pharmaceuticals, Ministry of Chemicals and Fertilizers in November 2008.
Objective is to provide quality medicines at affordable prices for all, particularly the poor, so as to reduce out-of-pocket expenses in healthcare.
They provide generic drugs, which are available at lesser prices but are equivalent in quality and efficacy as expensive branded drugs. All therapeutic medicines are made available from Jan Aushadhi Stores.
Jan Aushadhi stores also sell allied medical products commonly sold in chemist shops so as to improve the viability of running the Jan Aushadhi store.
Pharmaceutical & Medical Devices Bureau of India (PMBI) has been established under the Department of Pharmaceuticals, Govt. of India, with the support of all the CPSUs for co-coordinating procurement, supply, and marketing of generic drugs through the PMBKs.