Pradhan Mantri Jan Dhan Yojana : Crossed The 50 Crore Mark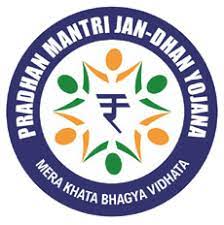 The finance ministry recently said the total number of Jan Dhan accounts in the country has crossed the 50 crore mark, with 56 per cent of the accounts belonging to women.
Pradhan Mantri Jan Dhan Yojana (PMJDY) is a National Mission for Financial Inclusion launched in August 2014 to ensure access to financial services, namely, Banking/ Savings & Deposit Accounts, Remittance, Credit, Insurance and Pension, in an affordable manner.
It envisages universal access to banking facilities with at least one basic banking account for every household, financial literacy, access to credit, insurance and pension.
The plan also envisages channelling all Government benefits (from Centre / State / Local Body) to the beneficiary's accounts and pushing the Direct Benefits Transfer (DBT) scheme of the Union Government.
Eligibility:

The applicant should be an Indian National.
Any individual above 10 years can open a bank account.
If minors above ten years apply, they will require support from their legal guardians to administer their PMJDY account.

Jan Dhan Account: An individual can consider opening an account under this scheme with any bank branch or Business Correspondent (Bank Mitr) outlet.
Further, accounts opened under PMJDY can be opened with zero balance.
However, if the account holder wishes to get a chequebook, he/she will have to fulfil the minimum balance criteria.
The account holders under this scheme will be given a RuPay debit card which can be used across all ATMs for cash withdrawal.
Individuals opening a Jan Dhan account are subject to be recipients of certain benefits. They are
Accidental Insurance Cover: It provides accidental insurance of ₹1,00,000 to the holders of non-premium cards, while those with premium cards can avail up to ₹2,00,000.
People holding a RuPay Debit Card under PMJDY will be eligible for this insurance.