Pradhan Mantri Mudra Yojana: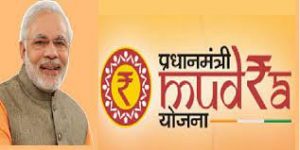 The disbursal of small business loans under Pradhan Mantri Mudra Yojana (PMMY) logged a record 30 per cent growth in the first half of the current fiscal ended September compared to the same period last year.
It is a flagship scheme of the Ministry of Finance, Government of India, launched on 8th April, 2015.
It is a Financial Inclusion (FI) programme in the country based on three pillars – Banking the Unbanked, Securing the Unsecured and Funding the Unfunded.
Types of loans:
Shishu – Covering loans up to Rs 50,000;
Kishor – Covering loans above Rs 50,000 and up to Rs 5 lakh;
Tarun – Covering loans above Rs 5 lakh and up to Rs 10 lakh.
Eligibility:
Any Indian Citizen who has a business plan for a non-farm sector income generating activities such as manufacturing, processing, trading or service sector.
They can avail from all Public Sector Banks, Regional Rural Banks and Cooperative Banks, Private Sector Banks, Foreign Banks, Micro Finance Institutions (MFI) and Non-Banking Finance Companies (NBFC) up to Rs 10 lakhs Micro Units Development & Refinance Agency Ltd. (MUDRA) loans under PMMY.