World Sanskrit Day 2023: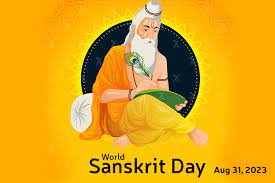 In 2023, the celebration of World Sanskrit Day takes place on 31st August.
The first World Sanskrit Day was celebrated in 1969.
World Sanskrit Day or Vishwa Sanskrit Diwas is celebrated on Purnima Tithi (Full moon) of Shravana month every year.
It serves as a tribute to the birth anniversary of Paṇini, a distinguished Sanskrit scholar and grammarian.
This day is celebrated to show gratitude and respect towards the Sanskrit language.
Sanskrit is among the 22 official languages included in the Eight Schedule of the Indian Constitution.
It is also included among 6 Classical languages besides Tamil, Telugu, Kannada, Malayalam, and Odia.
In 2010, Sanskrit was declared the second official language of Uttarakhand.