Tiranga Point And Shivshakti Point On Moon: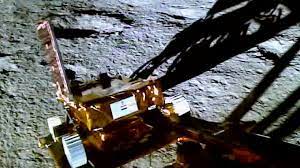 Prime Minister announced that the point where the Chandrayaan-2 lander left its footprint on the Moon would be known as "Tiranga Point". The point where the Vikram lander touched down on the lunar surface would be named "Shiv Shakti".
Shivkshakti Point : on Moon is the location on the lunar South Pole where the 'Vikram' lander touched down
"The 'Shivkshakti' point will encourage future generations to take up science seriously and use it for the welfare of people.
To commemorate the success of the Chandrayaan-3 lander, Prime Minister Modi announced that the spot of the landing of the Vikram lander will be known as 'Shivshakti'.
The Prime Minister commended the Chandrayaan-3 mission's accomplishments while paying a crucial visit to the ISRO Telemetry Tracking and Command Network (ISTRAC) in Bengaluru.
The designation of the Chandrayaan-3 moon lander landing location as the "Shiv Shakti Point" was one of the main attractions of this expedition.
This name is not just symbolic; it also resonates with the depth of Indian philosophy and stands for resolve, strength, and the enormous connection that connects the Himalayas to Kanyakumari.