Pneumococcal Conjugate Vaccine (PCV) Immunisation Drive For Infants.: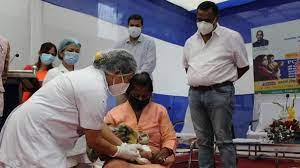 The Chief Minister of Andhra Pradesh has launched Pneumococcal Conjugate Vaccine (PCV) immunisation drive for infants.
Earlier in December 2020, India's first fully indigenously developed pneumococcal conjugate vaccine "Pneumosil" was launched.
It prevents pneumococcal disease. It can protect both children and adults from pneumococcal disease.
The vaccine is a mix of several bacteria of the pneumococci family, which are known to cause pneumonia—hence 'conjugate' is included in the name of the vaccine.
Conjugate vaccines are made using a combination of two different components.
Pneumococcal disease:
Pneumococcal disease is a name for any infection caused by bacteria called Streptococcus pneumoniae or pneumococcus.
Most people carry pneumococcus in their nose and throat, where the bacteria do not cause any symptoms.
However, sometimes the bacteria grow and spread to other parts of the body and that's when people become sick.
Effects: These bacteria can cause many types of illnesses, including pneumonia, which is an infection of the lungs. Pneumococcal bacteria are one of the most common causes of pneumonia.