Procurement Of 70 HTT-40: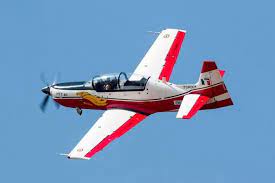 The Union Cabinet recently approved the procurement of 70 HTT-40 basic trainer aircraft costing Rs 6,828 crore for the Indian Air Force.
The Hindustan Turbo Trainer-40 (HTT-40) is a basic trainer aircraft (BTA).
It is designed and developed by Hindustan Aeronautics Limited (HAL).
It is a turboprop aircraft designed to have good low-speed handling for better training effectiveness.
It has a maximum take-off weight of 2.8 tonnes.
It can achieve a top speed of 450 Km/hr and a maximum range of 1,000km.
The fully aerobatic tandem seat HTT-40 has an air-conditioned cockpit, modern avionics with multifunction displays, hot refueling, and zero-zero (zero speed and zero altitude) ejection seats.
The aircraft will meet the shortage of BTAs for the training of newly inducted pilots of the Indian Air Force (IAF).
It will be used for basic flight training, aerobatics, instrument flying, and close formation flights, in addition to undertaking secondary missions such as navigation and night flying flights.