Distribution Of Argon-40 On Moon: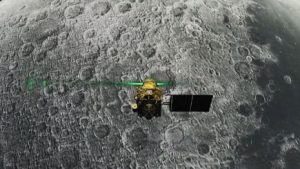 Chandra's Atmospheric Composition Explorer-2 (CHACE-2), a payload onboard Chandrayaan-2, has made the first-of-its-kind discovery on the distribution of one of the noble gases, Argon-40.
India launched Chandrayaan-2, its second lunar exploration mission after Chandrayaan-1, from Satish Dhawan Space Centre, Sriharikota in July 2019.
The gas found in the lunar exosphere is believed to have escaped from the lunar surface.
The CHACE-2 observations reveal that the distribution in Ar-40 has significant spatial heterogeneity.
There are localised enhancements (termed as Argon bulge) over several regions including the KREEP [potassium (K), Rare-Earth Elements, and Phosphorus (P)] on South Pole Aitken terrain (impact crater on the far side of the Moon).
Noble gases serve as important tracers to understand the processes of surface-exosphere interaction, and Argon-40 (Ar-40) is such an important tracer atom to study the dynamics of the lunar exospheric species.
It will also help decipher radiogenic activities in the first few tens of metres below the lunar surface.
Ar-40 originates from the radioactive disintegration of Potassium-40 (K-40) present below the lunar surface.
Once formed, it diffuses through the inter-granular space and makes its way up to the lunar exosphere through seepages and faults.