K9-Vajra : Procurement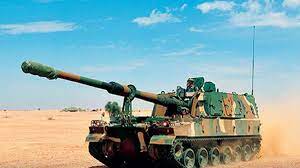 The Defence Ministry has started the process for the procurement of 100 more K9-Vajra tracked self-propelled howitzers.
The 100th gun was delivered to the Army in 2021
The K9 Vajra is a 155 mm, 52-calibre tracked self-propelled howitzer (a short gun for firing shells on high trajectories at low velocities) built in India by Larsen & Toubro (L&T) with technology transferred from South Korean defence major Hanwha Defense based on its K9 Thunder.
The K9 Thunder platform is made of all-welded steel armour protection material.
The K9 gun has been developed under the 'Buy Global' programme of the Defence Procurement Procedure (DPP) where foreign companies are allowed to participate.
The K9 Vajra was mainly bought for use in deserts, but the India-China standoff prompted them to be deployed in the mountains as well.
To ensure that these systems performed optimally in the extreme cold weather conditions of the mountains, the Army also procured winterisation kits for the regiment deployed.