Project Sky Canvas: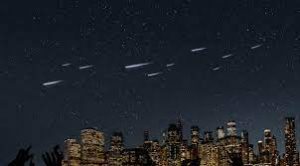 A Tokyo-based space company, ALE, recently announced that it will create the world's first artificial meteor shower in 2025 under the project Sky Canvas.
Sky Canvas Project is the world's first artificial meteor shower project.
The aim of the project will be to collect atmospheric data in the mesosphere.
Under this project, meteor-replicating particles will be installed in a satellite 250 miles (400 km) up and then released over a designated area.
These metallic particles will be spheres with a diameter of 0.4 inches (1 cm) and a mass of a few grams.
The pea-sized balls have a secret chemical formula that causes them to light up from the friction of re-entry at speeds of up to five miles (8km) a second.
ALE says they will travel more slowly and light up for longer than natural shooting stars – up to ten seconds each.
They will be visible over a 125-mile (200 km) area.
The ingredients in the pellets can be altered to change the colour, which means that a multi-coloured flotilla of shooting stars could be created.