Pulikkali(Tiger Dance) : Onam Celebration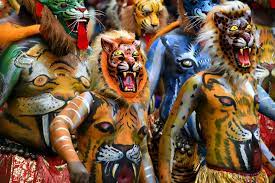 Human tigers and leopards pranced about the streets in a rollicking show of Pulikkali to lend a carnivalesque finish to Onam celebrations.
Pulikkali (Tiger Dance) is one of the folk art forms of Kerala.
On the fourth day of the Onam festival, artists paint their bodies like tigers with stripes of yellow, red and black and dance to the rhythm of traditional percussion instruments such as thakil, udukku and chenda.
The Swaraj Ground in Thrissur district plays host to this carnival that has people appearing in various unique hues and masks.
The main theme of this folk art is tiger hunting, with participants playing the role of tiger and hunter.
It was introduced by the erstwhile ruler of Cochin, Maharaja Rama Varma Sakthan Thampuran.
Onam:
It is the biggest and the most important festival in the state of Kerala.
It is a harvest festival celebrated at the beginning of the month of Chingam, the first month of the Malayalam Calendar (Kollavarsham).
The Carnival of Onam lasts from four to ten days. The first day, Atham and the tenth day, Thiruonam, are the most important of all.
According to a popular legend, the festival is celebrated to welcome King Mahabali, whose spirit is said to visit Kerala at the time of Onam.
Another key feature is Vallamkali, the Snake Boat Race, held on the river Pampa.
Kaikotti kali and Thumbi Thullal are two graceful dances performed by women on Onam.