Nord Stream 2 Pipeline: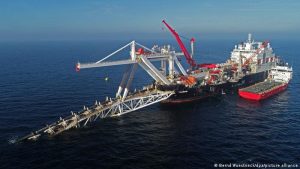 The US, which had previously imposed sanctions to prevent the completion of a major new gas pipeline between Russia and Germany, has now signalled its approval for the project.
The US and Germany reached a deal on the Nord Stream 2 pipeline – which significantly increases Europe's energy dependence on Russia– under which Berlin will respond to stop Moscow should the latter use the strategically critical gas system as political leverage.
In 2015, the Russian energy major Gazprom and five other European firms decided to build Nord Stream 2, valued at around $11 billion.
The 1,200-km pipeline will run from Ust-Luga in Russia to Greifswald in Germany through the Baltic Sea, and will carry 55 billion cubic metres of gas per year.
The under-construction pipeline will run along with the already completed Nord Stream 1 system, and the two together will supply an aggregate of 110 billion cubic metres of gas to Germany per year.
The pipeline falls in the territory of EU members Germany and Denmark, and is about 98% complete.