What Is Quad grouping?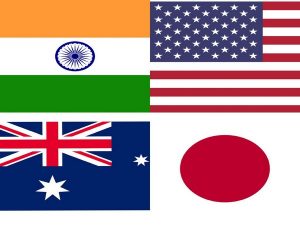 Defence Minister Rajnath Singh said on Sunday while stating that unexpected Paradigm shifts affects countries globally that the Quadrilateral grouping has been constituted keeping these things in mind.
The quadrilateral security dialogue includes Japan, India, United States and Australia.
In March 2020, the Quad members held a meeting with representatives from New Zealand, South Korea and Vietnam to discuss their respective approaches to the COVID-19 pandemic. Instigated by the US, this new grouping of key Indo-Pacific states was called "Quad Plus".
Recent developments:
Today the enemy no longer needs to enter the border. He can also target our security apparatus from outside the border.
Alignment and re-alignment of global powers have added to the already changing security challenges.
The changing equations in Afghanistan are a recent and important example of this. These circumstances have forced every country to think on its strategy today.
The stand-off along the Line of Actual Control (LAC) with China in Eastern Ladakh
A positive agenda built around collective action in humanitarian assistance and disaster relief, monitoring shipping for search and rescue or anti-piracy operations, infrastructure assistance to climatically vulnerable states, connectivity initiatives and similar activities.
What is Quad grouping?
The quadrilateral security dialogue includes Japan, India, United States and Australia.All four nations find a common ground of being the democratic nations and common interests of unhindered maritime trade and security.
The grouping traces its genesis to 2004 when the four countries came together to coordinate relief operations in the aftermath of the tsunami.
It then met for the first time in 2007 on the sidelines of the Association of South East Asian Nations (ASEAN) summit.
The intention was to enhance maritime cooperation between the four nations.