Quad Grouping: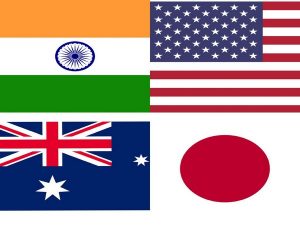 Foreign Ministers of the Quad group of countries – India, the U.S., Australia, and Japan – met on the fringes of the United Nations General Assembly (UNGA) to sign a Humanitarian Assistance and Disaster Relief (HADR) partnership into effect.
Under the HADR, the member countries will coordinate their disaster response operations in the Indo-Pacific region with other National and International agencies, private non-governmental organizations.
QUAD is the grouping of four democracies –India, Australia, the US, and Japan.
All four nations find a common ground of being democratic nations and also support the common interest of unhindered maritime trade and security.
It aims to ensure and support a "free, open and prosperous" Indo-Pacific region.
The idea of Quad was first mooted by Japanese Prime Minister Shinzo Abe in 2007.
However, the idea couldn't move ahead with Australia pulling out of it, apparently due to Chinese pressure.
Finally in 2017, India, Australia, the US and Japan, came together and formed this "quadrilateral" coalition.