Anubhuti Inclusive Park : World's Largest And Unique Divyang Park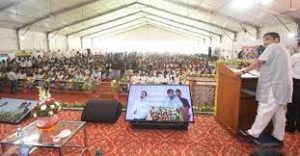 Union Minister for Road Transport and Highways laid the Foundation Stone of the world's largest and unique Divyang Park – Anubhuti Inclusive Park in Nagpur, Maharashtra.
Features of the park: Facilities for all 21 types of disabilities, such as a touch and smell garden, hydrotherapy unit, water therapy, and independent room for mentally challenged children, and mothers.
Vision: To build an inclusive society, with the aim of showing empathy instead of sympathy towards persons with disabilities. to give the disabled the right to live with dignity.
This can be used as an example in social justice, Indian society and Ethics paper.
The park aims to set an example of empathy, respect and dignity towards people with disabilities, while also catering to the needs of the general public and different age groups.