Quarterly Employment Survey (QES):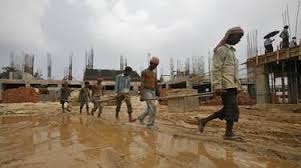 The Fourth Round (January-March, 2022) of Quarterly Employment Survey (QES), part of All India Quarterly Establishment based Employment Survey (AQEES), was released by the Labour Bureau, Ministry of Labour and Employment.
Key Findings of QES 2022:
An estimated total of 3.18 crore workers were engaged in 5.31 lakh establishments during the 4th round, compared to a total of 3.14 crores in the 3rd quarter
Manufacturing sector: 38.5%
Education: 21.7%
Information Technology /Business Process Outsourcing (BPO): 12%
Health sector: 10.6%
In terms of number of workers, an estimated 80% of the establishments engaged 10 to 99 workers.
About 12% of the establishments reported less than 10 workers.
Only 1.4% of the establishments reported at least 500 workers.
Female workers participation reported a marginal increase from 31.6% in the 3rd quarter to 31.8% in the 4th quarter report
The AQEES has been taken up by the Labour Bureau to provide frequent (quarterly) updates about the employment and related variables of establishments, in both organised and unorganised segments of nine selected sectors.