All-India Quarterly Establishment-Based Employment Survey: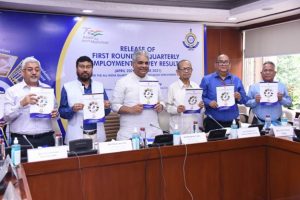 The All-India Quarterly Establishment-based Employment Survey, in a report released recently said that the overall employment numbers had increased by 29% from the base year of 2013-14.
However, in the first quarter of this fiscal (April-June 2021), 27% of the establishments surveyed reported pandemic-related retrenchment.
The report, released by Labour and Employment Minister Bhupender Yadav, covered 10,593 firms that employed more than 10 workers and were spread over nine sectors that account for 85% of the total employment in such establishments.
Overall, employment stood at 3.08 crore in the first quarter, up from 2.37 crore as reported in the Sixth Economic Census (2013-2014). All but two sectors — trade and accommodation & restaurants — saw an increase in employment over the period.
The report said the IT/BPO sector had the most impressive growth (152%), followed by health (77%), transport (68%), financial services (48%), construction (42%), education (39%) and manufacturing (22%).
Manufacturing was found to account for 41% of the establishments, followed by education (22%) and health (8%).
There was a decline in employment in trade (25%) and accommodation and restaurants (13%).
The number of female workers showed a decline too, from 31% in the Sixth Economic Survey to 29% as of the first quarter of the quarterly employment survey.
While 27% of the establishments reported pandemic-induced retrenchment, the silver lining was that 81% of the workers had received their full wages during the lockdown (March 25 to June 30, 2020).