Rail Link Between Nepal And India: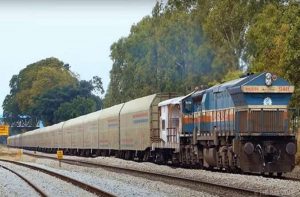 The first stretch of rail link between Nepal and India is ready to resume on the neighbouring country's first-ever broad gauge passenger service (Jainagar-Bijalpura-Bardibas railway project).
The rail link between Nepal and India has been popular since the early 20th century.
In 1937, the British had built a narrow gauge line to ferry cargo, mainly logs, from Nepal to India.
However, over time it became a popular passenger service before it was stopped in 2014 for conversion to broad gauge.
Revamped Project:
First Stretch: A 34-km line between Bihar's Jainagar and Nepal's Kurtha, with the Hindu pilgrimage city of Janakpur Dham (in Nepal) in between.
Second Stretch: A 17 km of railway line from Kurtha to Bijalpura is also getting the finishing touches.
For the remaining portion up to Bardibas, land is being handed over to IRCON International Limited (a Government of India Undertaking).
Cost of Project: The construction cost of Rs 784 crore for the entire stretch is being borne by India in the form of a grant to Nepal.
Managing Body: The Konkan Railway Corporation Limited has got the contract for operations and maintenance of the line, and will train and develop manpower provided by Nepal, as per the bilateral understanding.
Electric Rail Track:
MoUs have been signed between both the governments for laying an electric rail track linking Kathmandu with Raxaul (Bihar) in India.
Freight Train Services:

India and Nepal have signed a Letter of Exchange (LoE) to the India-Nepal Rail Services Agreement (RSA) 2004.
It will allow all authorized cargo train operators to utilize the Indian railway network to carry Nepal's container and other freight – both bilateral between Indian and Nepal or third country from Indian ports to Nepal.