Village Defence Guards Scheme (VDGs):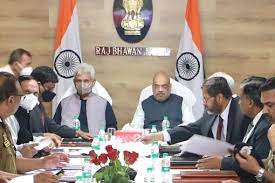 Government started the process of arming members of VDGs with assault rifles in Jammu region and CRPF to provide arms training to VDGs in the wake of recent terror attacks in the region.
The aim of VDGs is to organize a small group of volunteer armed civilians in the identified villages along the borders as well as in-depth areas of the Jammu division, with a view to instill a sense of self-protection and ensure safety and security of such villages.
VDGs shall be charged with the responsibility of protecting community installations and infrastructural facilities within the defined areas of their village.
The Village Defence Committees (VDCs) were set up in the 1990s to arm villagers for self-defense purposes in the J&K region.
In 2020, the policy of Village Defence Committees was revamped and Village Defence Groups were introduced, members of whom are called Village Defence Guards (VDGs).
Based on assessment by law enforcement agencies, a group of armed civilians belonging to the 'more vulnerable areas' not more than 15 in number in each group, who shall be designated as VDGs shall be formed.
Each group will be called the 'Village Defence Group' and shall be headed by a retired officer of the Army/Central Para Military Force (CPMF)/J&K Police.
All VDGs are eligible for a monthly remuneration.
The VDGs also function under the supervision of district superintendent of police(SP)/Senior superintendent of police(SSP).