Rajasthan's New Wetland: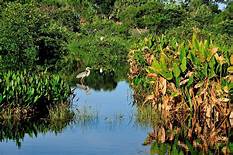 Recognised as the "bird village" following community-driven conservation efforts, Menar in Udaipur district is set to be notified as Rajasthan's new wetland.
This will pave the way for getting the Ramsar site status for this rural heartland of the Mewar region.
Menar Wetland:
The two lakes in the Menar village – the Brahma and Dhandh play host to a large number of migratory birds every year.
The Forest Department has initiated the process for notification of Menar as a wetland, which will recognise its role in the storage of sediment and nutrients and enable the local authorities to maintain the respective lakes.
With the status of wetlands, the two lakes will be strengthened for increasing the vegetation of aquatic plants and protecting biodiversity.
More than 150 species of local and migratory birds inhabit the two lakes in the winter season.
They include Greater Flamingo, White-tailed Lapwing, Pelican, Marsh Harrier, Bar-headed Goose, Common Teal, Greenshank, Pintail, Wagtail, Green Sandpiper and Red-wattled Lapwing.
Bird lovers and tourists flock to the village after the arrival of migratory birds from as far as Central Asia, Europe and Mongolia.
At present, Rajasthan has two wetlands recognised as Ramsar sites –

Keoladeo Ghana in Bharatpur district
Sambhar Salt Lake in Jaipur district.