Lignite Mining: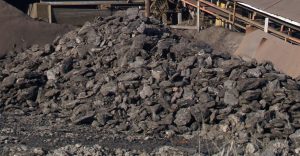 The Congress government in Rajasthan is preparing an ambitious road map in the New Year for mining of lignite in Bikaner district's Gudha West and the installation of a new lignite-based thermal power plant in its vicinity.
The joint action plan is expected to significantly enhance the State's power generation capacity.
Lignite mining capacity of 10 lakh tonnes was available in Gudha West, where there was a plan to set up a power plant of 125 to 135 MW capacity in 2005 as well.
The Central Government's Neyveli Lignite Corporation is already generating electricity in its power plant at Gudha East, while the power is being produced by the private sector in Bikaner district's Barsingsar village.
Lignite, often referred to as brown coal, is a soft, brown, combustible, sedimentary rock formed from naturally compressed peat.
It has a carbon content around 25–35%, and is considered the lowest rank of coal due to its relatively low heat content.
Lignite is mined all around the world and is used almost exclusively as a fuel for steam-electric power generation.
The combustion of lignite produces less heat for the amount of carbon dioxide and sulfur released than other ranks of coal. As a result, environmental advocates have characterized lignite as the most harmful coal to human health.