German Peace Prize 2023: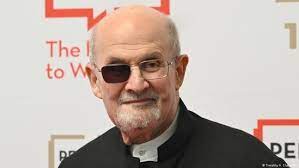 Renowned author Salman Rushdie has been awarded the prestigious Peace Prize of the German Book Trade for his literary work and his unwavering spirit in the face of constant danger.
The prize organizers commended Rushdie's narrative vision, literary innovation, humour, and wisdom.
Despite the physical and psychological consequences he has faced, including a stabbing incident in 2022, Rushdie continues to write imaginatively and with a deeply human approach.
The jury recognized his resolve, positive attitude, and the enriching impact he has on the world through his storytelling.
Since 1950, the Börsenverein des Deutschen Buchhandels, the professional organisation of publishers and booksellers in the Federal Republic of Germany, has awarded the Peace Prize of the German Book Trade.
Every year since 1950, the Foundation Board of the Peace Prize has selected a personality who has made an important contribution to peace, humanity and understanding between peoples.