'Gaofen-3 03': China's Earth Observation Satellite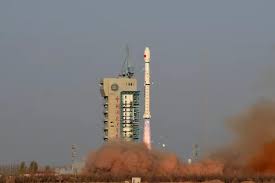 China has launched a new Earth observation satellite on 7th April 2022. This satellite will become a part of the country's land-sea radar satellite constellation. It will capture images to help China safeguard its maritime interests.
The satellite has been named Gaofen-3 03.
It was from the Jiuquan Satellite Launch Centre with the use of a Long March-4C rocket.
The satellite has been successfully inserted into the planned orbit.
This newly launched satellite will be networked with the already orbiting Gaofen-3 and Gaofen-3 02 satellites.
These 3 satellites will form a land-sea radar satellite constellation and will be capturing stable, reliable, synthetic aperture
A lot of SAR images are captured by Earth Observation (EO) satellites every day. SAR images have the capabilities to process images during all-weather operations.
The images produced have a high spatial resolution.
These images boast a 1-meter resolution thus, improving China's monitoring capabilities.
The images that will be captured by the satellite will help in the mitigation and prevention of marine disasters, help in the monitoring of the dynamic marine environment, environmental protection, marine research, agriculture, water conservancy, and meteorology.
It will also help in safeguarding the maritime rights and interests of the country.