Uranium Deposit In Rajasthan: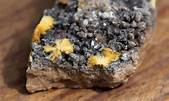 Huge reserves of uranium was found at Rohil (Khandela Tehsil) in Sikar district, which is over 120 km from the state capital Jaipur.
After Jharkhand and Andhra Pradesh, Rajasthan is the third state where uranium which is considered one of the rare minerals in the world — has been found.
The largest producers of uranium in the world are Kazakhstan, Canada and Australia
India imports uranium mostly from Kazakhstan and Canada
The Rajasthan government has forayed into the field of uranium mining by issuing a letter of intent (LoI) to the Uranium Corporation of India.
Uranium is mainly used for generating electricity and also for nuclear energy, medicines, defence equipment and photography
Uranium is a silvery-white metallic chemical element. Uranium-235 (its isotope) is the only naturally occurring isotope, capable of sustaining nuclear fission.