Goa Bhumiputra Adhikarini Bill, 2021: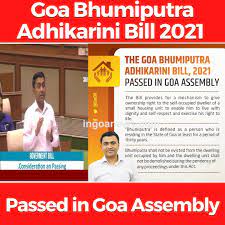 The Goa Assembly passed the Goa Bhumiputra Adhikarini Bill, 2021.
It recognises anyone living in the state for 30 years or more as a 'Bhumiputra (son of the soil)' and giving such a person the right to own his or her 'small dwelling unit' if ownership was undetermined so far.
Once recognised as a Bhumiputra, an individual can stake claim to ownership of their house of not more than 250 sq m, built before April 1, 2019.
The objective was to enable the 'mool Goenkar (original Goan)' to live with dignity.
The Bill provides for the constitution of the Bhumiputra Adhikarini — a committee consisting of the Deputy Collector as its Chairperson.
This Bill has open the floodgates for the migrant population that has been staying in densely populated areas in Goa and has no legality.
This would recognise encroachments by slum-dwellers that are over 30 years old as Bhumiputras.