Guru Ravidas: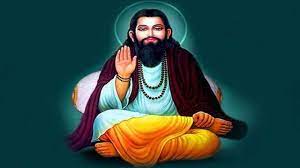 The postponement of the Assembly elections in Punjab to February 20 underlines the importance of the Ravidassia community in the state.
Several political parties had urged the Election Commission for a postponement as the earlier date of February 14 would have clashed with Guru Ravidas Jayanti, an annual occasion during which Ravidassias travel to Varanasi in large numbers.
Many of them take a special train organised by the Dera Sachkhand Ballan in Jalandhar, the largest dera of the Ravidassias.
The Ravidassias are a Dalit community of whom the bulk — nearly 12 lakh — live in the Doaba region. The Dera Sachkhand Ballan, their largest dera with 20 lakh followers worldwide, was founded in the early 20th century by Baba Sant Pipal Das.
Once closely connected with Sikhism, the dera severed these decades-old ties in 2010, and announced they would follow the Ravidassia religion.
The dera made the announcement on Guru Ravidas Jayanti in Varanasi.
From 2010, the Dera Sachkhand Ballan started replacing the Guru Granth Sahib with its own Granth, Amritbani, carrying 200 hymns of Guru Ravidas, in Ravidassia temples and gurdwaras.
Guru Ravidas was a North Indian mystic poet of the bhakti movement.
While the exact year of his birth is not known, it is believed that the saint was born in 1377 C.E.
Guru Ravidas Jayanti is celebrated on Magh Purnima, which is the full moon day in the Hindu calendar month of Magha.
The Adi Granth of Sikhs, in addition to the Panchvani are the two of the oldest documented sources of the literary works of Guru Ravidas.
Notably, he belonged to an untouchable caste and suffered a lot of atrocities as a result. However, the saint chose to focus on spiritual pursuits and also penned several devotional songs which made a huge impact in the Bhakti movement during the 14th to 16th century CE.
He is believed to be a disciple of the bhakti saint-poet Ramanandaand a contemporary of the bhakti saint-poet Kabir.
One of his famous disciples was the saint, Mirabai.
Among Ravidas's moral and intellectual achievements were the conception of "Begampura", a city that knows no sorrow; and a society where caste and class have ceased to matter.