Pasmanda Community: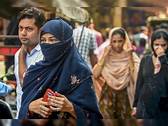 Pasmanda Community has gained attention of many political parties for inclusive growth and eradication of intra caste discrimination.
'Pasmanda', a Persian term meaning "those who have fallen behind" refers to Muslims belonging to the shudra (backward) and ati-shudra (Dalit) castes.
It was adopted as an oppositional identity to that of the dominant ashraf Muslims (forward castes) in 1998 by the Pasmanda Muslim Mahaz, a group which mainly worked in Bihar.
Pasmandas encompass those who are socially, educationally and economically backward and make up the majority of the Muslim community in the country.
The term "Pasmanda" is majorly used by Muslim associations in Uttar Pradesh, Bihar, and other parts of India to define themselves as Muslim communities historically and socially oppressed by caste.
Backward, Dalit and tribal Muslim communities are now organising under the identity of Pasmanda. These communities includes:

Kunjre (Raeen), Julahe (Ansari), Dhunia (Mansuri), Kasai (Qureishi), Fakir (Alvi), Hajjam (Salmani), Mehtar (Halalkhor), Gwala (Ghosi), Dhobi (Hawari), Lohar-Badhai (Saifi), Manihar (Siddiqui), Darzi (Idrisi), Vangujjar, etc.