Rename The State Kerala As Keralam: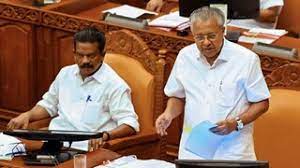 The Kerala Assembly has passed a resolution to rename the state as "Keralam" in both the Constitution and official records.
While the state has been referred to as "Kerala" in English, the name in Malayalam is "Keralam."
The resolution aims to align the English and Malayalam names.
The term 'Kerala' has its origins in ancient texts, and 'Keralam' is considered a closer reflection of the original Malayalam pronunciation.
The earliest historical reference to the region is in Emperor Ashoka's Rock Edict II of 257 BC, where the local ruler is mentioned as "Keralaputra," meaning "son of Kerala" or "son of Chera," referring to the Chera dynasty.
The demand for a united territory for all Malayalam-speaking communities gained momentum during the Aikya Kerala movement in the 1920s.
This movement aimed to integrate the regions of Malabar, Kochi, and Travancore into a single territory.