Renewables 2022 Global Status Report (GSR 2022):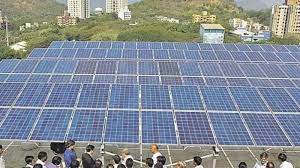 Recently the Renewables 2022 Global Status Report (GSR 2022) was released by REN21 (Renewable Energy Policy Network for the 21st Century).
REN21 is a global collective of renewable energy actors.
It includes scientists, governments such as India's, non-governmental organisations and members of the industry who collated data on renewable energy installations, markets, investments and policies in countries across the world.
The Renewables 2022 Global Status Report documents the progress made in the renewable energy sector.
It highlights the opportunities afforded by a renewable-based economy and society, including the ability to achieve more diversified and inclusive energy governance through localised energy generation and value chains.
Countries with higher shares of renewables in their total energy consumption enjoy a greater level of energy independence and security.
Highlights of the Report:
This Report sends a clear warning that the global clean energy transition is not happening, making it unlikely that the world will be able to meet critical climate goals this decade.
Although many more governments committed to net zero greenhouse gas emissions in 2021, the reality is that, in response to the energy crisis, most countries have gone back to seeking out new sources of fossil fuels and to burning even more coal, oil and natural gas.
For the first time, GSR 2022 provides a world map of renewable energy shares by country and highlights progress in some of the leading countries.
In the lead-up to the United Nations Climate Change Conference (COP26) in November 2021, a record 135 countries pledged to achieve net zero greenhouse gas emissions by 2050.
However, only 84 of these countries had economy-wide targets for renewable energy, and only 36 had targets for 100 % renewables.
India's Performance:
Renewable Energy: India ranked third in renewable energy installations in 2021, after China and Russia.
Hydropower Capacity: India added 843 MW of hydropower capacity in 2021, raising the total capacity to 45.3 GW.
New Solar PV Capacity: India was the second largest market in Asia for new solar PV capacity and third globally (13 GW of additions in 2021).
Total Installations: It ranked fourth for total installations (60.4 GW), overtaking Germany (59.2 GW) for the first time.
Wind Power: India ranked third globally for the total installed capacity of wind power (40.1 GW), behind China, the US and Germany.