Chandrayaan-3 : Enters Lunar Orbit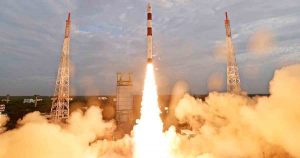 India's ambitious lunar mission, has achieved a significant milestone by entering lunar orbit twenty-three days after its departure from Earth.
Chandrayaan-3 is India's third lunar mission and second attempt at achieving a soft landing on the moon's surface.
The mission took off from the Satish Dhawan Space Center (SDSC) in Sriharikota on July 14, 2023, at 2:35 pm.
Orbits:
Lunar orbit is the curved path followed by a spacecraft as it revolves around the Moon.
Translunar is the trajectory that takes a spacecraft from Earth to a point beyond its orbit, en route to the Moon.
Earth orbit is the elliptical or circular path that a satellite or spacecraft traces around the Earth due to gravitational forces.